Ask a Physio!
Mundaring & Hills Physio
Thanks to everyone for sending through your Ask a Physio questions! Unfortunately, we had to pick from a range of questions and have decided to answer the two most commonly asked in the clinic. 
Here they are : 
1. Should I foam roll before or after exercise?
Foam rollers are one of my favourite tools to manage tight muscles and treat knee pain, heel pain or "tight" muscles, among other things, but when should we use them?
This question is often as common as, how do we foam roll and why does foam rolling even work? 
Most people have a love/hate relationship with these tools, and they are just as polarizing to Physiotherapists & health professionals (Cheatham et al 2015). There are plenty of studies investigating whether we should perform foam rolling pre or post workout, as well as other specific details as to how much pressure is needed and how much time we require to foam roll.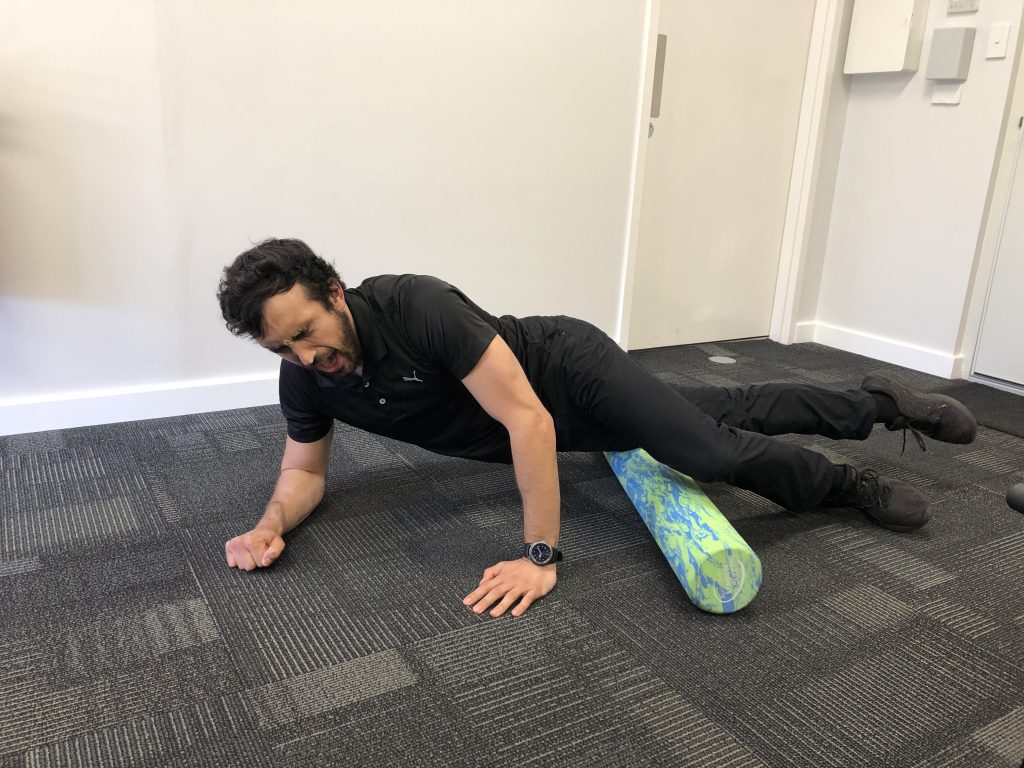 Often there is no clear answer as the research shows the effect sizes are not statistically significant between groups. There is often great amounts of variation between individuals in the same group (Flecklenstein et al. 2017).
Personally, I have always recommended using foam rollers after exercise, but if you would like to use them before exercise to loosen up, there is nothing wrong with that, as long as it works for you. Just make sure that the time you spend on the foam roller doesn't cut in to the valuable time you spend exercising!
2. How can I jump higher?
Working with basketball athletes, this is one of the most commonly asked questions I get. It is possible to maximise your jump height through a strengthening program, including squats and deadlifts, as well as plyometric exercises such as depth jumps and skipping (Gjinovci et al. 2017). Jumping higher is also trained the same way we improve in any skill – perfect practice makes perfect (Perez-Gomez & Calbet 2013). The most overlooked principle to jumping higher that we in the clinic are concerned with is landing safely. If you don't land safely, you have a higher risk of injury (Root et al 2015), and this is a certain way to keep you grounded. Below is an image of myself showing a poor landing, off balance, where my torso is twisted in the wrong direction, and my knee collapsed in. Compare this to the correct landing on the right, and you can see not only am I in a better position to land, I will be able to move out of this position quickly and safely.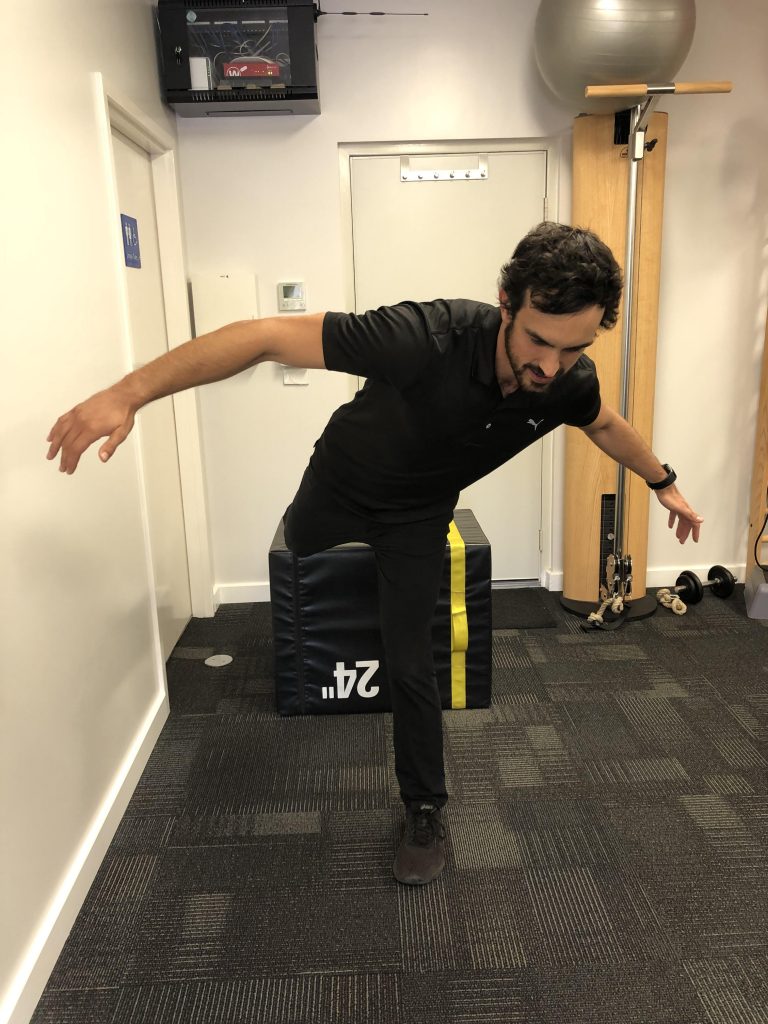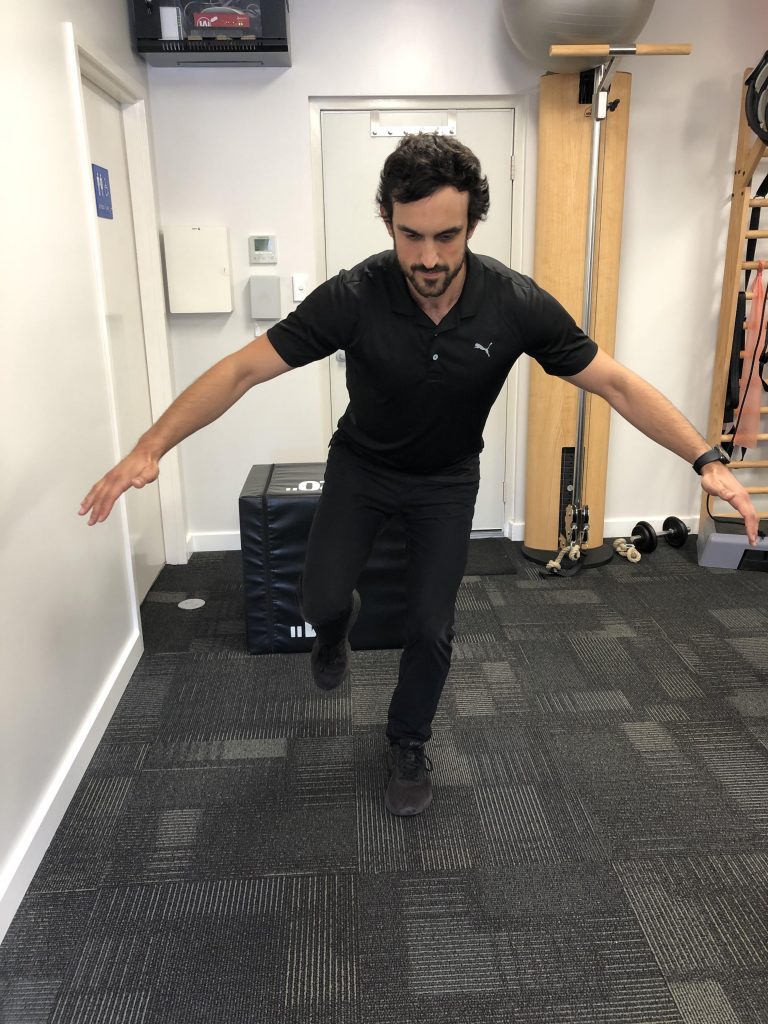 This difference between an awkward and safe landing could be the difference between a torn ACL (often leading to costly surgery and nearly a year of recovery) and a highlight play, so make sure you keep those leg muscles strong, practice properly and stay safe!
Thanks again to everyone for their fantastic questions and I look forward to helping keep you active and pain free!

---
Ashley Flynn
PHYSIOTHERAPIST
Upon completion of his Bachelor of Physiotherapy degree from Curtin University, Ashley started working at Como Physiotherapy. Ashley's areas of interest are in the areas of rehabilitation and the prevention of sports injuries, management of chronic disease, chronic low back pain and treatment of amputees.
Ashley is also trained in DMA Clinical Pilates, in which he utilises a combination of dry needling, with exercise and manual therapy to achieve the best results during treatment sessions.
Ashley is currently the Physiotherapist for the Perth Redbacks State Basketball League, a role Ashley took on with the club in 2014. Ashley is also currently working with individuals suffering from Ankylosing Spondylitis on Monday evenings in Shenton Park, utilising group exercise and hydrotherapy for the management of this disease.
During his spare time, Ashley's other activities include playing basketball, cycling around the Swan River, scuba diving or watching the West Coast Eagles!
---
References

Cheatham, S. W., Kolber, M. J., Cain, M., & Lee, M. (2015). THE EFFECTS OF SELF-MYOFASCIAL RELEASE USING A FOAM ROLL OR ROLLER MASSAGER ON JOINT RANGE OF MOTION, MUSCLE RECOVERY, AND PERFORMANCE: A SYSTEMATIC REVIEW. International journal of sports physical therapy, 10(6), 827–838.

Fleckenstein, J., Wilke, J., Vogt, L., & Banzer, W. (2017). Preventive and Regenerative Foam Rolling are Equally Effective in Reducing Fatigue-Related Impairments of Muscle Function following Exercise. Journal of sports science & medicine, 16(4), 474–479.

Gjinovci, B., Idrizovic, K., Uljevic, O., & Sekulic, D. (2017). Plyometric Training Improves Sprinting, Jumping and Throwing Capacities of High Level Female Volleyball Players Better Than Skill-Based Conditioning. Journal of sports science & medicine, 16(4), 527–535.

Perez-Gomez, Jorge & Calbet, Jose. (2013). Training methods to improve vertical jump performance. The Journal of sports medicine and physical fitness. 53. 339-357.

Root, H., Trojian, T., Martinez, J., Kraemer, W., & DiStefano, L. J. (2015). Landing Technique and Performance in Youth Athletes After a Single Injury-Prevention Program Session. Journal of athletic training, 50(11), 1149–1157. doi:10.4085/1062-6050-50.11.01